Telephone Cable
Phone cable generally contains two pairs of wires, for two phone lines. The first pair is green and red; the second is black and yellow. The way you remember this is that there are two holidays: Christmas and Halloween. (I apologize if this is a US-centric mnemonic. I encourage everyone around the world to celebrate Halloween.) This set of colors is standardized for stranded wires (where each "wire" consists of about 20 little tiny wires that stick in your fingers and hurt like hell if you aren't careful.) For solid wires, the colors defined below for Ethernet are used; pair 1 is White/Blue+Blue, pair 2 is White/Orange+Orange.
RJ-11 Plug Wiring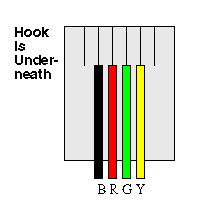 This is the wiring for the plug side of an RJ-11 connector. Can you say "BRGY"? (Think about cheap red wine; I know I do.) The diagram is shown with the "hook" – the little thing you press on to get the plug out – underneath. RJ-11 sockets always have the colors indicated on the terminals.
Note that the connector on the other end of an RJ-11 connector is wired in reverse order. That is, if you stretch the cable out flat, the Black wire stays on the left all the way to the other end, including through the connector with the hook oriented down also. Also note that the RJ-11 connector has six terminals on it. Only the middle 4 are normally used. Line 1 is the center pair: red and green, as in Christmas.
---
T-568B Color Code for RJ-45 Plug
Eight-conductor data cable contains 4 pairs of wires. Each pair consists of a solid (or predominantly) colored wire and a white wire with a stripe of the same color. The pairs are twisted together. To maintain reliability on Ethernet, you should not untwist them any more than necessary (like about 1 cm).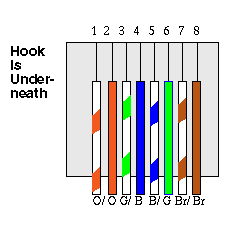 There are two wiring standards for these cables, called "T-568A" and T-568B" They differ only in connection sequence, not in use of the various colors. The illustration shown is for T-568B. The pairs designated for 10BaseT Ethernet are Orange and Green. The other two pairs, Brown and Blue, can be used for a second Ethernet line or for phone connections.
Note that the Blue pair is on the center pins and conveniently corresponds to the Red and Green pair in a normal phone line. The connections shown are specifically for an RJ45 plug (the thing on the end of the wire). The wall jack may be wired in a different sequence because the wires are actually crossed inside the jack. The jack should either come with a wiring diagram or at least designate pin numbers that you can match up to the color code below.
Pin Number Designations
There are pin number designations for each color in T568B as well. The pin designations are as follows:
   Color Codes for T568B
Pin     color  pair  name
---     -----  ---- ---------
1       wh/or   2   TxData +
2       or      2   TxData -
3       wh/grn  3   RecvData+
4       blu     1
5       wh/blu  1
6       grn     3   RecvData-
7       wh/brn  4
8       brn     4
Note that the odd pin numbers are always the white with stripe color.
Info found at http://www.pronet.no/sverre/wires/colors.html
---
Wiring Diagrams for Straight Through, Cross Over and Y cables
Note: The hook is underneath in all cases and Pin one is always on the Lef
t
Straight Through Cable
Color Code
Color
Pin 1
Pin 2
Pin 3
Pin 4
Pin 5
Pin 6
Pin 7
Pin 8
white orange
orange
white green
blue
white blue
green
white brown
brown








Cross Over Cable
Color Code
Color
Pin 1
Pin 2
Pin 3
Pin 4
Pin 5
Pin 6
Pin 7
Pin 8
white green
green
white orange
blue
white blue
orange
white brown
brown








The other side is a straight through cable see Straight through diagram
Y Cable
Color Code
Color
Pin 1
Pin 2
Pin 3
Pin 6

---

Pin 1
Pin 2
Pin 3
Pin 6

white orange
orange
white green
green

---

blue
white blue
white brown
brown






---






The other side is a straight through cable see Straight through diagram